MONTGOMERY, Ala. — A recent poll of Alabama's Republican primary voters shows that Florida Gov. Ron DeSantis leads by nearly 20 points over former President Donald Trump in a hypothetical matchup for the 2024 GOP presidential nomination.
A full 50% of respondents said they would either definitely or probably vote for DeSantis, while just 31% said they would definitely or probably vote for Trump. Among the undecided, 3% lean towards DeSantis, 4% lean towards Trump and 9% are totally unsure.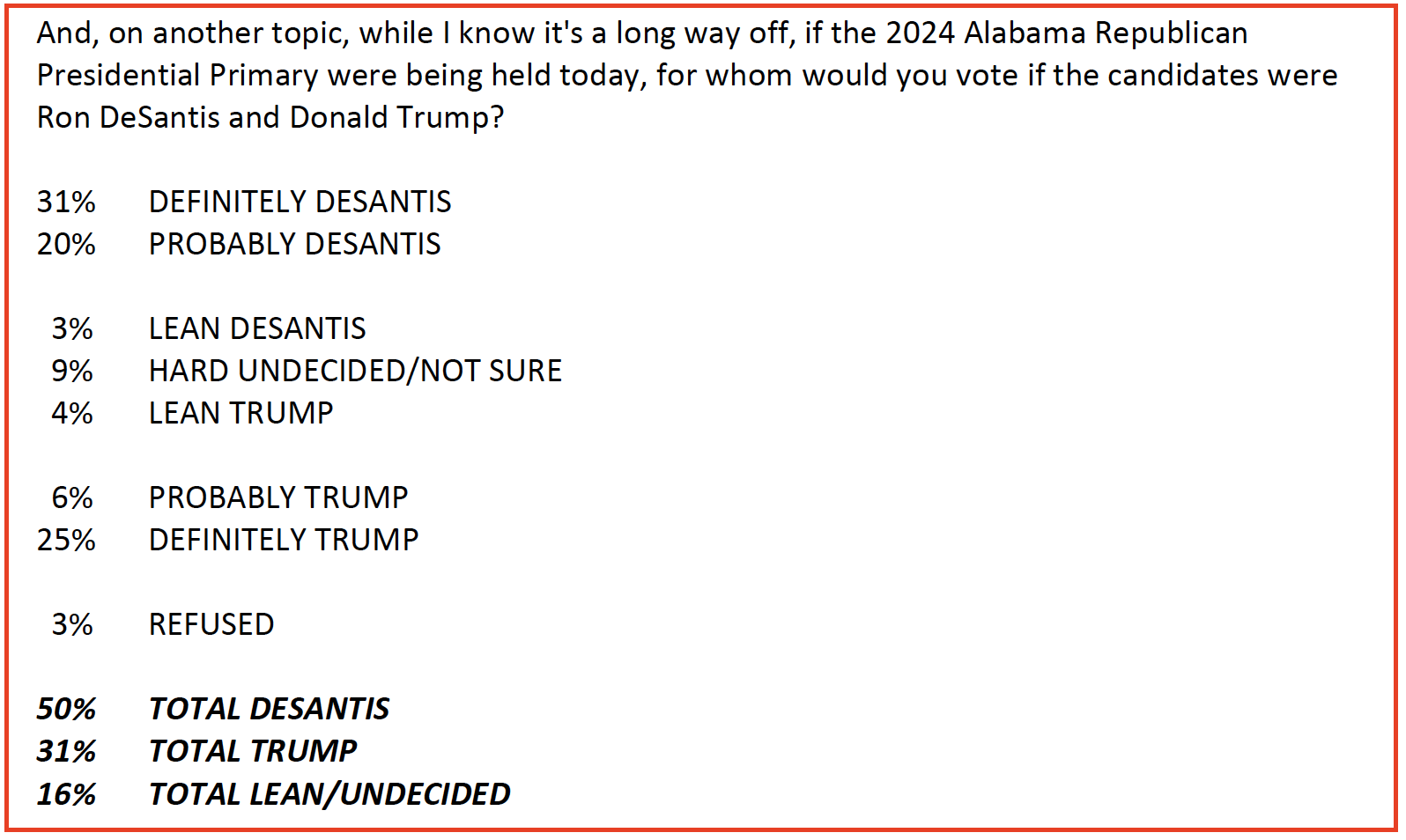 The survey was conducted by Public Opinion Strategies on behalf of Alabama Families for Great Schools, a nonprofit organization dedicated to charter schools. The poll polled 500 GOP primary voters Jan. 14-16 across landlines and cell phones and has an error rate of +/- 4.38%.
Alabama Daily News reported the results of the education-focused questions Sunday, but the poll also included questions about the broader political landscape.
The Trump/DeSantis numbers are the latest evidence of the former president's eroding support among Republicans since the party endured a disappointing midterm election that saw several Trump-picked candidates in swing states fall short. In a late October poll conducted by Cygnal on behalf of the Alabama Daily News, Trump led DeSantis 49.6% to 35.7% among Alabama's GOP primary voters, with several other potential candidates registering in the low single digits. When Trump was eliminated from that poll as a possible candidate, DeSantis walked away with 71.2% of the vote.
Alabama isn't the only state where support for Trump is waning. Last week, a University of New Hampshire poll showed DeSantis leading Trump by 42% to 30% among Republican voters in Granite State. And a South Carolina Policy Center poll of Republican voters found DeSantis leading Trump 52% ​​to 33% in a head-to-head match. Both New Hampshire and South Carolina are important early presidential primary states.
A major caveat to these latest Trump/DeSantis numbers is that the matchup was a head-to-head. It did not include other potential candidates, including the likes of former Vice President Mike Pence, former South Carolina Gov. Nikki Haley, South Carolina Senator Tim Scott, and former Secretary of State Mike Pompeo, each of whom are said to be considering an offer. And yet, going back to that Cygnal poll in late October, these candidates barely registered in an election test and their combined score was barely even with "uncertain."
It's also interesting to see some of the ideological and demographic breakdowns of the Trump/DeSantis competition. DeSantis actually wins with every ideological position identified in the poll, but performs best among "very conservative" voters and worse among those who identify as "moderate or liberal." And when it comes to education, Trump and DeSantis are nearly neck and neck with those who haven't graduated from college, but the Florida governor has a 42-point lead over those with college degrees. See the helpful Public Opinion Strategies graphic courtesy of Alabama Families for Great Schools below.