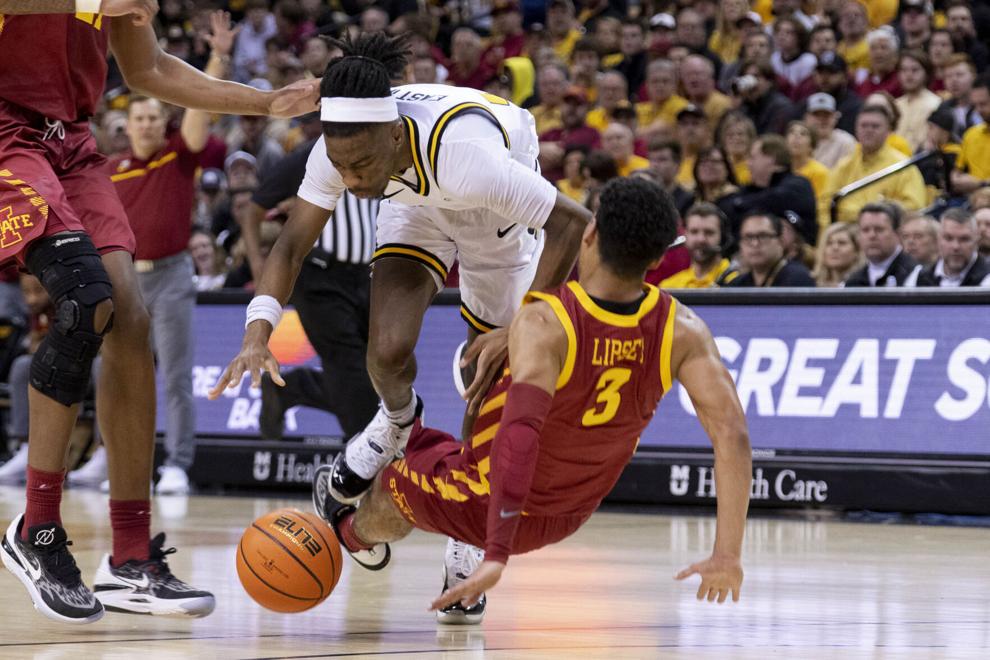 Missouri played its part in Saturday's Southeastern Conference by upsetting 12th-state Iowa. And Tennessee protected its home court in the Rick Barnes reunion game.
But the league mostly flopped during the final SEC/Big 12 Challenge. That could cost the SEC dearly if the NCAA tournament selection committee decides the bracket.
Consider Oklahoma's 93-69 billets from No. 2 Alabama. The Sooners are just 12-9 overall and 2-6 in the Big 12, so a mammoth win could help them nab an NCAA bid at the expense of one of the SEC hopefuls.
That loss could also deny Alabama one of the top seeds. Crimson Tide coach Nate Oats felt the full weight of the loss afterwards.
"It doesn't impact SEC rankings, which is the only good thing," he said. "Hopefully we'll bounce back from a loss in the conference, but it's not good. We needed the SEC to do well in this Big 12 challenge. We obviously didn't do our job there."
Elsewhere in the challenge:
Kentucky came up short at home to Kansas 77-68 and missed a chance to improve their standing with the Tournament Selection Committee.
Auburn hurt the SEC by falling at West Virginia 80-77, giving the Mountaineers a better case for an NCAA tournament bid.
Arkansas fell to 0-5 in real road games by suffering a 67-64 tumble at Baylor. The Razorbacks' hopes of a good starting spot in the Big Dance are fading.
LSU lost 76-68 at home to the hapless Texas Tech, who are 0-8 in Big 12 game this season. Pooh!
Florida was beaten 64-50 by Kansas State with ex-gator Keyontae Johnson putting on a show.
Ole Miss was flogged 82-60 at Oklahoma State. Big 12 wins are hard to come by — the Cowboys are 3-5 in the Big 12 this season — so OSU was only too happy to step on the stumbling Rebels.
The only other SEC-positive Saturday was Mississippi State, which defeated No. 11 TCU in overtime. That's a fair warning for Missouri, who will face the Bulldogs in Starkvegas on Saturday.
Here's what people wrote about college basketball:
Kyle Boone, CBSSports.com: "No. 4 Tennessee's defensive reputation is well known – the Volunteers are ranked #1 nationwide for adjusted defensive efficiency on kenpom.com – but their offense has been a concern at times this season. In an 82-71 win over No. 10 Texas, offense won the day The Vols shot 55.6% from the floor, led by a career-high 27 points from Olivier Nkamhoua and 22 from Zakai Ziegler The win was a small revenge for Tennessee, who played in lost a 52-51 thriller in Texas last season when coach Rick Barnes returned to the school where he spent 17 seasons.The Longhorns have struggled to find consistency since Barnes' tenure ended, while the Volunteers have appear destined to finish 5th or better in the NCAA tournament with the program for the fifth time in Barnes' eighth season."
David Cobb, CBSSports.com: "After a Quad 4 home loss to South Carolina on Jan. 10 dropped Kentucky to 3-1, the Wildcats have clearly turned a corner over the past two weeks during a four-game winning streak. However, the Wildcats only made 25.7% of their 3-pointers at this stretch, and against Kansas, a run of poor outside shots eventually caught up with them. Kentucky hit just 2 of 13 shots from beyond the arc, with Cason Wallace accounting for both shots. CJ Fredrick and Antonio Reeves – two transfers praised for their perimeter shooting – went 0 for 8 from deep together. Poor shooting is a recent development for the Wildcats, who scored 35.4% of their 3-pointers as a team in the first 16 games of the season. If Kentucky is to get over the loss in Kansas quickly and build on the progress it's made since losing to the Gamecocks, it's going to have to find a better shoot from somewhere. Wallace is playing his part, but getting Reeves and Fredrick up and running will be critical to the long-term success of this team."
Kevin Flaherty, 247 sports: "Both Alabama and Texas competed as ranked teams Saturday, and neither looked very much like a top 10 team in their Big 12/SEC Challenge competition. Texas has arguably the best combination of talent and experience of the Big 12, but the Longhorns needed to come up with a polished edge, not a boring one. Instead, they were closely controlled, never getting within single digits of Tennessee in the second half, and trailing by as much as 22 points. Speaking of 22, before the game against No. 2 Alabama, 22 points marked Oklahoma's biggest win of the season, a 75-53 win over UMKC. That changed when the Sooners blew Alabama by 24 points, 93-69, and stayed about two minutes in contention in a game that Oklahoma led by 32 points. You see, the teams have evenings off. Sometimes they don't even seem to get off the bus. But the country's No. 2 team, a team with plans for a national championship, shouldn't need a run in the last few minutes to avoid a 30-point loss. And while Alabama's defensive performance left a lot to be desired, it was also concerning that Porter Moser was able to put on a strong performance against Alabama's offense."
Gary Parish, CBSSports.com: "The Crimson Tide are still 18-3 overall, including 8-0 in the SEC, with a 6-3 record in quadrant 1 and zero losses outside of quadrant 1. Virtually every school in the country except Purdue has either fewer Quadrant 1 wins than Alabama and/or more Quad 1 losses than Alabama and/or more non-quadrant 1 losses than Alabama. Most have all three."
Neal McCready, rivals.com: "The calendar turns to February on Wednesday and the Oxford basketball season is basically over. The Rebels play Kentucky 7-1 in Tuesday's Southeastern Conference game. Dating back to last season, including a first-round SEC tournament loss to Missouri, the Rebels have won just five of their last 26 games against league opponents. Apathy has spread among the fan community. If you're (athletic director) Keith Carter, apathy is an enemy that needs to be exorcised. Continuing with another season of the current situation is not an option, everyone knows that. Carter probably needs a splash. (Chris) Beard is one hell of a basketball coach. Beard, who turns 50 next month, led Little Rock to the second round of the 2015 NCAA tournament. He led Texas Tech to the Elite Eight in 2018 and to a national title shot a year later. He led Texas to the second round of the NCAA tournament last season and recruited a top-five class before being fired earlier this year."
"I found the crowd incredible. I sat there as the crowd rushed to the ground – you know, my younger self might have run out in the middle of it – and I just sat there and I just said, 'This is a vision.' And that kind of excitement in the student body – I thought it was great. They were there early. The best crowd I've had since I've been here."
Oklahoma coach Porter Moser after upsetting Alabama.