Hawaiian Holdings, the parent company of Hawaiian Airlines, reports that it trimmed its fourth-quarter loss as demand for air travel to the Pacific archipelago — excluding Japan — largely recovered.
The Honolulu-based airline on Jan. 31 reported a loss of $50.2 million for the final quarter of 2022, compared to a loss of $92.6 million for the same quarter of 2021 due to widespread travel restrictions related to Covid-19. 19
For full year 2022, Hawaiian lost $240 million compared to a loss of $145 million in 2021.
"It's encouraging to enter a year where Covid restrictions are no longer hanging over our network," Hawaiian Chief Executive Peter Ingram said during the airline's quarterly earnings call Jan. 31. "But we know we still have a lot of work to do as our financial viability is far from restored."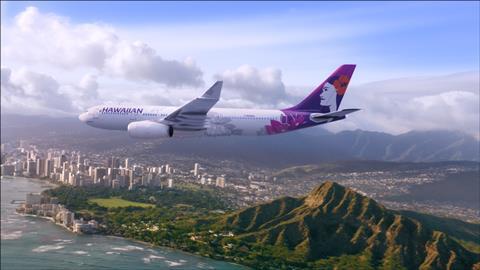 Total revenue for the fourth quarter was $731 million, compared to $495 million in the fourth quarter of 2021.
The airline reports robust travel demand from North America to Hawaii and demand rebounds from other key markets in Australia, New Zealand and South Korea.
"Despite the lifting of Covid travel restrictions in October, Japanese travelers have not yet resumed international travel at a pace comparable to pre-pandemic levels," says Ingram. "While we remain confident that Japanese travelers' longstanding affinity for Hawaiian vacations will manifest itself, we must also be pragmatic about deploying capacity elsewhere if recovery remains slow."
The airline experienced punctuality issues at its Honolulu hub in the fourth quarter due to construction on major arrival runways and "air traffic control programs that limit arrivals at the airport," Ingram says. The restrictions have mostly impacted Hawaiian's short-haul flights to neighboring islands.
"As a result, our reliability has fallen below our high standards," says Ingram. "We were forced to make adjustments to our schedule to stabilize operations."
"For 2023, the focus is on being more reliable, consistent and efficient," he adds.
Hawaiian is also feeling competitive pressure from Southwest Airlines, which began offering Hawaiian inter-island flights in April 2019. Ingram on January 31 called the rivalry a "competition between the neighboring islands," but insisted Hawaiian retains an advantage despite Southwest frequently undercutting its fares.
"We continue to believe that our place in the community, our product and schedule, our knowledge of the guest and our fabulous staff give us structural advantages here that will allow us to win," he says. "We are Hawaii's airline."
Looking ahead to the first quarter of 2023, the airline expects operating revenue per available seat mile to increase from 7.5% to 10.5% compared to the three months ended March 31, 2022. However, Ingram refuses to predict when the airline will return to profitability.
"I can't predict when we'll return to profitability as accurately as I would like," he says. "We have no control over the timing of demand recovery from Japan."
This year, Hawaiian will operate at least 10 Airbus A330-300 Freighters on behalf of Amazon. The airline also expects to deliver the first of 12 Boeing 787-9 Dreamliners on order in the fourth quarter of 2023.
"As we launch our new Amazon service and deploy the 787s, we will reap the revenue benefits and increase shareholder value," said Shannon Okinaka, Hawaiian's chief financial officer.