A massive boulder sped down a mountain and shattered a family's home – narrowly dodging a homeowner who tried to get in its way.
The rock, 5 feet in diameter, missed Caroline Sasaki by just a few feet as she walked into her living room just as the boulder smashed through the outer wall and shot right in front of her.
The incident was captured by a security camera at the family home in Palolo, O'ahu, Hawaii at 11:45 p.m. Saturday
The footage, shared online by local news channel KHON 2, has been viewed more than 1.4 million times.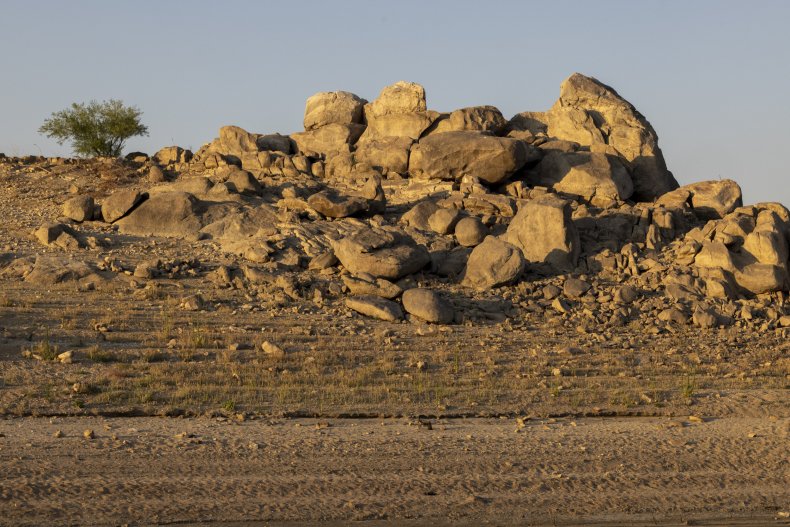 There was a tremendous crash as the boulder crashed through the house, knocking out beams and debris and coming to rest in a bedroom after destroying the outer concrete block wall and damaging an inner wall.
Sasaki managed to jump back just in time and can be seen cowering in shock. Two other relatives, a man and a girl, who were not identified in the news, broke into the picture as Sasaki whimpered in fear, and the man said, "Are you alright? Whoa! Whoa, a rock just came down!" A fourth person was on the property.
Sasaki told KHON 2 on Sunday: "Today I'm a little better, but last night I was very shaken. I really didn't know what happened other than the loud bang." She added that she's been struggling to sleep since the boulder destroyed part of her home.
The family recently moved back into their home after completely remodeling and renovating it, Sasaki said. The destroyed wall has now been temporarily nailed up with wood.
Sasaki worries that a development project that carved out the mountain behind her house could be responsible for removing the boulder; something the real estate developer denies.
KHON 2 reported that other locals say they have never seen such a situation before but claim three boulders fell down the valley within 24 hours over the weekend.
"This has never happened before [despite] Heavy rain and hurricane warnings – nothing," Sasaki said. "So stones never came down. We had some issues with them carving the mountain and I don't know if that's the cause…
"The Department of Permits and Planning, the Department of Disaster Management, the Mayor, the City Council — they should all get involved because lives are at stake."
Builder Bingning Li told KHON 2 that the incident had nothing to do with his construction work. "Not at all, that [boulder] coming from way up," he said, adding, "So it hit one of the cables that was supposed to stop it and the cable snapped. That took a lot of energy, otherwise this damage would be much greater."
Bingning said he will now arrange for an inspection by engineering experts and he plans to reinforce a barrier around his development.
Hawaii News Now reported on Monday that the damage had yet to be assessed by insurers and the boulder still remained at Sasaki's home.
news week has contacted the Honolulu Fire Department for more information and comments.
The incident is not the first time a rockfall has been caught on camera. Just last year, a 20-foot boulder fell in southern China and smashed through a number of parked cars – two children were trapped in one of the vehicles.
Others lost their lives when parts of mountains broke loose. A man sitting on a boulder overlooking a Utah canyon died in April 2022 when the canyon's ledge collapsed beneath him.
But there were some miraculous escapes. A man told news week in 2021 how he survived a 100-foot fall when he was caught in an avalanche while skiing in South Lake Tahoe, California.