Three of the five Douglas High wrestlers who competed in Nevada's first regional girls' tournament will head to the state tournament in less than two weeks.
Two of those making the final step of the winter season are freshmen.
Ella Kavanagh was second at 100lbs for the Tigers while Jasmine Tamondong was third at 107lbs.
Sophomore Bliss Moody continued her solid season with a second place finish at 120 pounds and ticketed to the Winnemucca State Tournament on February 10th and 11th.
Frog finds out
Kavanagh and Tamondong quickly adapted to the college wrestling circuit after competing in middle school.
Kavanagh won her first two matches by pin in 3:12 and 1:01, setting up her third encounter with Fernley's Sophie Workman of the season.
Workman pinned Kavanagh in both previous encounters in the first round, but the Tiger newcomer nearly defeated Workman on Saturday.
Trailing 13-0, Kavanagh slipped and found himself with a two-point reversal that resulted in near-fall points almost instantly.
Kavanagh moved back to 13-5 and nearly pinned Workman before the Fernley wrestler found her own pin in 5:46.
"I just wanted to wrestle as best I could," Kavanagh said. "I give up 10 pounds in the boys class at most tournaments."
Kavanagh, who first started wrestling in the third grade, added that she feels her improvements on the mat have come quite naturally this winter.
"Their growth has been exponential this year," said Douglas coach Jake Fair. "The start of the season was a quick back and forth against Workman. She went far tonight. Ella had them on her back three times. It's been amazing their transition."
For Tamondong, coming from defeat was tested until falling in the second round in their first consolation game.
Reed's Alexandria Cherry was able to keep up with Tamondong, but the Tiger newcomer went 9-7 in the third-place playoff.
From there, Tamondong ended her regional tournament with a win via pin over Elko's Natalia Hernandez.
Tamondong started wrestling in the sixth grade and felt that her transition to the varsity level was a jerk.
"The placement is great, especially as a rookie. It's really exciting," Tamondong said.
Her success this season can be attributed to her takedowns, and her coach praised her one-legged approach.
"She has one of the smoothest high singles. It's a smooth shot. It's very beautiful to look at," Fair said.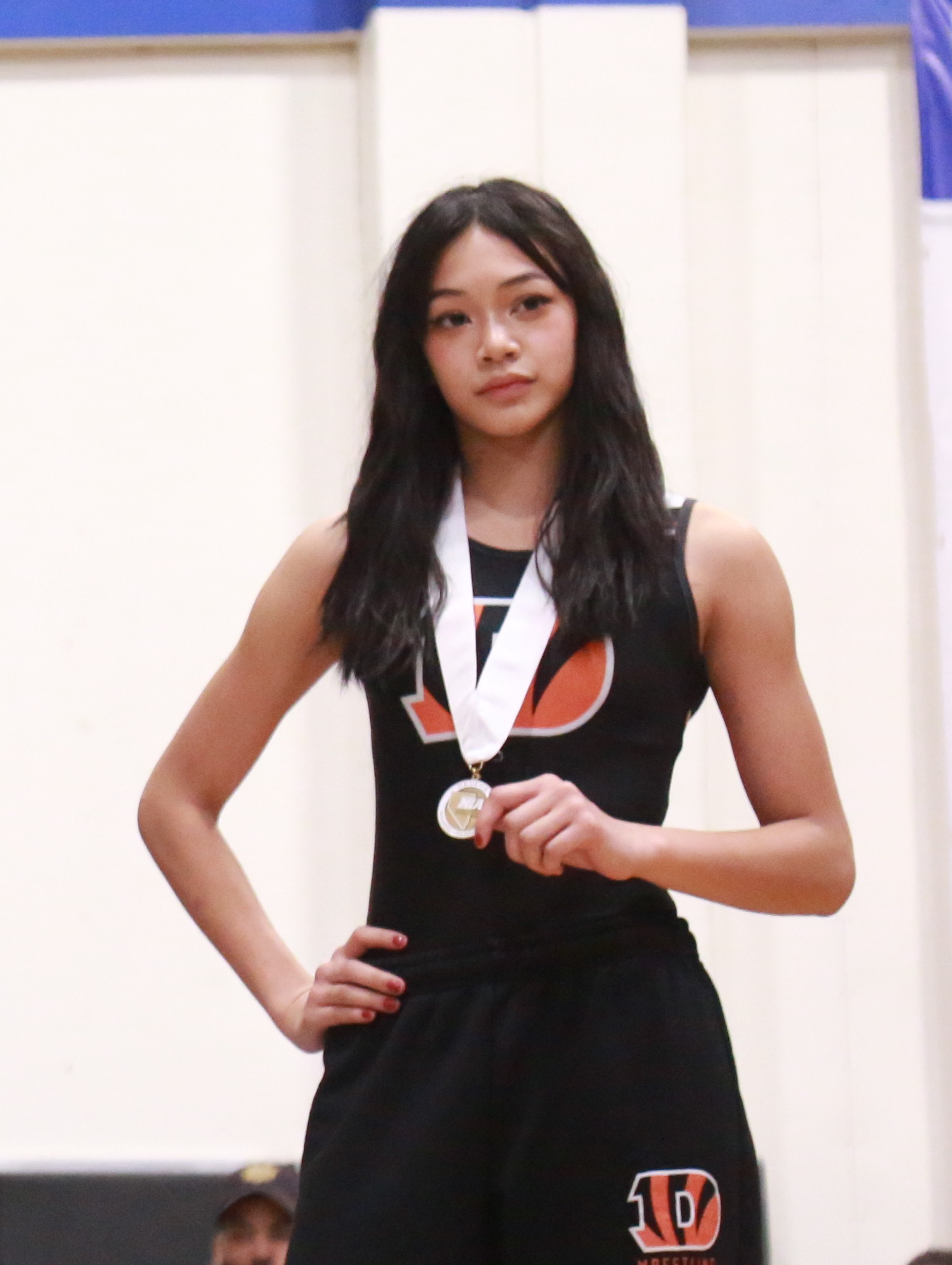 (Douglas' Jasmine Tamondong poses with her McQueen High School third-place medal on Saturday after qualifying for the Nevada state girls' wrestling tournament. / Carter Eckl)
Moody is second
Moody was back on the podium at another tournament that year and placed second at the regional tournament, losing only in the finals.
The sophomore needed 3:32 to pin her first-round opponent and overtime to claim a sudden 9-7 victory in the semifinals.
In the 120-pound regional final, Moody fell by pin to national-ranked Katie Ward of McQueen in 1:46.
Much like her performance at the Reno Tournament of Champions, Moody's ability to produce consistent results has boosted her confidence this season.
"I really wanted to get a place and worked really hard to get here," said Moody. "I didn't think I'd get second place, so I'm pretty happy with that."
Moody did not wrestle as a freshman due to injury.
Moody will be the second seed from the North when the state tournament brackets are drawn.
Mica Klein and Kelsie Doney also competed for Douglas at Regionals.
Klein went 0-2 at 152 pounds while Doney was 2-2 at the same weight.
The state tournament is in Winnemucca in less than two weeks.
"It's the first girl state so I'm super excited about it," said Kavanagh.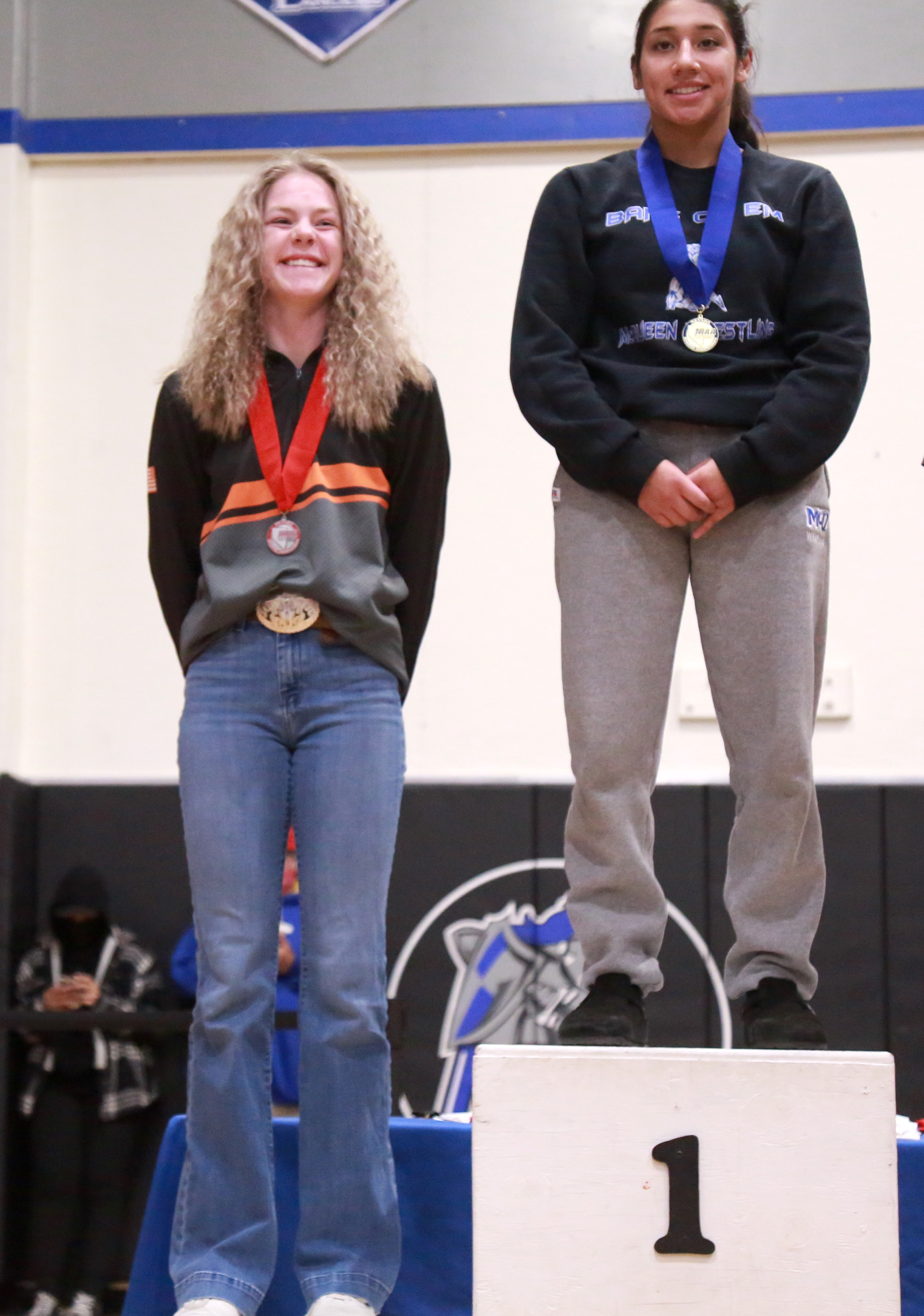 (Douglas High student Bliss Moody poses for a photo with her second place medal after qualifying for the state at the Nevada High School Girls Regional Wrestling Tournament in McQueen on Saturday. / Carter Eckl)