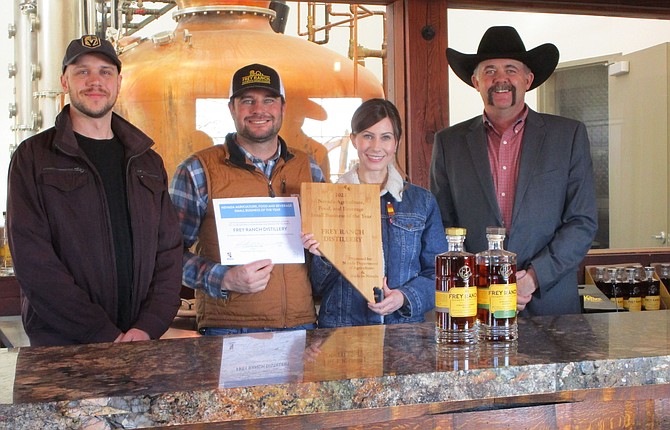 Frey Ranch Distillery of Fallon won the 2022 Nevada Agriculture, Food and Beverage Small Business of the Year award. From left: Made In Nevada's Brad Scribner, Frey Ranch Distillery owners Colby and Ashley Frey, and Nevada Department of Agriculture Director JJ Goicoechea in the Frey Ranch Distillery's tasting room.
Sara Dowling | NNG
They will drink to that!
Frey Ranch Distillery of Fallon has won the 2022 Nevada Agriculture, Food and Beverage Small Business of the Year award.
At a presentation on Jan. 26, JJ Goicoechea, Director of the Nevada Department of Agriculture, and Brad Scribner of Made In Nevada presented owners Colby and Ashley Frey with a certificate and a plaque in the shape of Nevada. The annual award recognizes the work of Nevada's agriculture, food and beverage industries.
"I want to thank the Freys. I couldn't be honored to be here today," Goicoechea said. "They make straight bourbon, straight rye, and single barrel whiskeys. (They are) housed in a 165 year old working ranch growing corn, wheat, rye, barley and oats, 100% of which goes directly into these (whisky) products."
According to the NDA, Frey Ranch nominations "recognized the operation as a true farm-to-glass operation and one of only four estate distilleries in the country. Their commitment and service to giving back to the community, being a center of tourism for Churchill County and contributing to the economy and workforce with 25 employees were also recognized."
The distillery was selected from 15 nominees in the Nevada Livestock, Food, Manufacturing and Beverage Company categories.
"It's a great honor," said Colby Frey. "Ashley and I were looking for ways to really showcase the botanicals we've always grown in my family and we thought what better way to do that than to make whiskey from it?"
"Let's take a moment to thank all of our team members for really helping us get to this point," added Ashley Frey. "To be the best whiskey in the state of Nevada in the ultra-premium category is such an honor and something we only dreamed of. We would like to say a big thank you to all of our supporters."
The Freys estate distillery first introduced brandy in 2013, and the following year introduced its first batch of vodka at the 1,200-acre ranch 12 miles south of Fallon.
However, whiskey is her first love. In late 2020, the Freys entered the California market, first in the northern part of the state and then in Southern California.
The distillery has grown its own grain for its spirits, but the ranch's original staples such as wine, brandy, gin, and vodka have been discontinued for the whiskey product.
"I've always thought of myself as a whiskey distiller," Frey said in a previous LVN article. "Our whiskey is on average five years old. We knew we could compete on a national level."
Located at 1045 Dodge Lane in Fallon, the distillery hosts free whiskey tastings and distillery tours every Saturday from 12pm to 4pm. Reservation is not necessary.