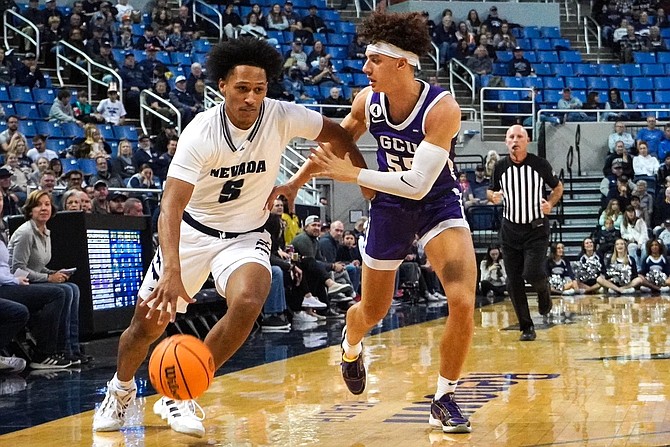 Wolf Pack rookie Darrion Williams, featured earlier this season, was named Monday's Mountain West rookie of the week for his performances against New Mexico and UNLV.
The Nevada Wolf Pack's 68-62 men's basketball loss to the UNLV Rebels in Las Vegas on Saturday:
STARTER
JAROD LUCAS: C
UNLV bottled the Wolf Pack Shooting Guard just enough. Lucas finished the race with 15 points as the team's best, but his teammates needed him to ignite the offense and that never happened. Lucas, the pack's top scorer (17 points per game, fifth in the Mountain West), didn't even make his first shot until he was more than seven minutes into the game. He didn't get his first shot until the first half when there were six minutes left. His 10 shot attempts are his fewest in a game since he had seven against Sam Houston State on Nov. 28. His three 3-point attempts are the fewest, as he also had three against San Houston State. The Rebels were apparently aware that Lucas is third in the conference for three-pointers (.386) and three-pointers per game (2.7) and wouldn't allow him to take them out of the Thomas & Shoot Mack Center. The Rebel defense, knowing Lucas isn't much help to the pack unless he shoots the ball, also forced Lucas to a season-high six turnovers. It's the second-highest turnover he's had in his collegiate career with 117 games (seven on Dec. 5, 2021 vs. Arizona while playing for Oregon State). Lucas scored seven points in a 4:35 span to cut the Rebels' lead to 56:55, 6:48 to play, suggesting he was about to heat up. But he only made one shot for the rest of the game and didn't score another goal.
KENAN BLACKSHEAR: B
Never let anyone tell you that Kenan Blackshear leaves nothing behind after a game on the pitch but his blood, sweat and tears on Saturday night. Blackshear played 2,183 of the game's 2,400 seconds (36:23) and always seemed to be doing two or three things at once. The problem for the pack was that it was a rollercoaster ride of two or three things full of peaks and valleys. The 6-foot-6-point guard finished with 14 points but needed 17 shots (he missed 11). He pulled five rebounds and dished out six assists, but also turned the ball around six times. He stole the ball twice but was also called off for four fouls. The pack benefited greatly this year as Blackshear dominated the ball with play on the line. But against UNLV, it seemed he tried for a whole game. Blackshear was particularly active in the first half, being on the pitch for all but 91 seconds of 20 minutes. He had eight points on 3-of-8 shooting, four assists and three rebounds, along with four turnovers and three rebounds in the first half. In the second half, he had two layups and two assists in just under four minutes to give the pack a 6-19 lead, 57-56. Another Blackshear layup reduced UNLV's lead to 63-62 with 3:44 to play. But then he missed two questionable 3-pointers (he's a 29 percent shooter from beyond the arc) as the pack failed to score in the final 3:44.
Will Baker: D
That 6-11 guy dressed in a wolf pack uniform at Thomas & Mack on Saturday certainly wasn't Will Baker, was he? You know, the Will Baker who had combined 64 points on 26 of 41 shots in 93 minutes in the last three games? where was the guy The baker who showed up Saturday was Bizarro World Baker, who laid down the occasional (five in each half) errant Rebel shot and, well, not much else. Baker finished the season with 10 rebounds, which is all well and good. But the best offensive center in the Mountain West ended up with just two points on 1-of-4 shooting. He barely attempted to score, only making two shots in each half. He made two shots in his first five minutes and then just two more for the rest of the game. Count the UNLV defense for Baker's inactivity on offense rather than, we assume, Baker's passivity or a brain spasm from coach Steve Alford ordering Baker not to shoot. But Alford limited his center to just 19 minutes. Baker's two points are his lowest since he also had two at Loyola Marymount on Dec. 3. His four shots equal his fewest in his two-year pack career (he did it twice last year). The Pack didn't win 16 of their first 21 games before Saturday with Bizarro World Baker.
TRE COLEMAN: C
We saw what happens when Tre Coleman is hampered by dire problems on Saturday night. The entire team is also inhibited and does not work efficiently. Coleman was limited to just 21 minutes on Saturday for four early fouls and finished the game with three points, four assists, a block and a steal. All of those stats came in the first half plus the first 30 seconds of the second half when Coleman had two fouls. He had a 3-point game early in the first half for a 9-5 pack lead and assisted on baskets from Blackshear, Lucas (twice) and Baker (his only bucket) and also had a steal, rebound and blocked one Shot. Coleman was then called for his third foul less than two minutes into the second half with the pack ahead, 38-35. The pack were then outplayed 33-24 for the remainder of the game, with Coleman only being on the court six of the last 18 minutes.
DARRION WILLIAMS: C+
The 6-6 freshman understandably came out with his hair and shorts on fire in the town where he played his final two years of high school basketball (Bishop Gorman). Williams took three threes (made one) and had two fouls and two rebounds in the first five minutes of the game as the pack took a 9-6 lead. Williams then sat out nine straight minutes with those two fouls and the pack was outplayed 21-11 to fall behind 27-20. It wasn't a coincidence. A rested Williams then dumped a 3-pointer and had two free throws in the first over two minutes of the second half as the pack forged a promising 40-36 lead. It seemed like Williams was on course to make UNLV once again regret not signing the former Gorman star. But then it was like someone poured a bucket of water on Williams' burning hair and shorts, or maybe the excitement of playing at Thomas & Mack would have just exhausted him. In the 17-21 final, the freshman scored just two points on 1-of-3 shooting, missed a free throw, picked up two more fouls and clinched just a rebound, despite remaining on the court for 16 minutes. Williams finished the game with 13 points in 27 minutes but also had just four rebounds, which was his third-lowest performance on the glass that year. His seven 3-point shots (three were good) are his most of the season. He also didn't have his third steal this year or his fourth offensive rebound.
BANK
NICK DAVIDSON: C+
Davidson did little in his six-plus minutes of the first half. He missed his only shot (a layup), had two rebounds and committed two fouls. However, in over nine minutes of the second half, he had seven points on five free throws and three rebounds. He made two trips to the line in a 37 second span and was 4-of-4 off the line to give the pack a 44-42 lead at 14:47. His 3-point game cut UNLV's lead to just 62-60 with four minutes remaining. Alford took him off the floor at that point and Davidson played just nine seconds of the final 4:06 as the pack scored two more points.
Trey Pettigrew: C
Pettigrew was trusted with just 11 minutes despite the team's nasty troubles. Pettigrew hit a jumper to cut UNLV's lead to 15-13 midway through the first half, but the rest of his performance included a missed layup, a turnover and a foul. With Coleman only playing 21 minutes, the pack could have used more than 18 minutes from Pettigrew, but Alford clearly didn't agree.
DANIEL FOSTER: C
Foster played more than nine minutes in each half and produced five rebounds, a steal and three fouls without scoring a point. His only shot, a missed jumper in the paint, came midway through the first half. The pack were outplayed 37-23 with Foster on the floor.
TYLER POWELL: C+
Tyler Powell returned to the rotation and rewarded the pack with six points and a steal in 18 minutes. He had played just 26 minutes in his last five games combined without scoring a point. Seton Hall's 6-5 transfer annihilated two threes two minutes apart to cut UNLV's lead from 4-51 in the first half to 30-23. That matched his total of three in his last seven games combined. He missed another 3-pointer and a jumper in the last 95 seconds of the first half and then didn't make a shot in his over six minutes of the second half. Powell only played 23 seconds of the final 5:14 when the pack could have used a well-placed 3-pointer or two.
TRAINING: C
Steve Alford just couldn't coach his way through here. Alford never found a way to pull his team out of the doldrums and steal the win, as has happened more than a few times this year. Foul problems (25 fouls) caused Alford to play his bench 64 combined minutes, the second-most minutes in nine Mountain West games (behind San Jose State's 71) that year. For example, in last Monday's 97-94 win over New Mexico, the bench played just 47 combined minutes in a double overtime game (250 minutes available). And the pack won. Alford played poker on Saturday, demanding three new cards in each hand and never getting what he wanted. Far too many things happened on Saturday that were just out of character with the pack. It was actually Bizzaro Pack World in many ways. Darrion Williams only had four rebounds, none on the offensive glass, and had no steal. Will Baker only fired four shots. Jarod Lucas only made 10 shots and only three threes. Daniel Foster and Tyler Powell each played 18 minutes, Tre Coleman only 21 and Will Baker only 19. Lucas and Blackshear each had six turnovers. Was Alford drained by UNLV's Kevin Kruger? Maybe a little bit. Sometimes a lot. The pack were clearly never in their comfort zone throughout the game, and that's every coach's goal in every game.
TOTAL: C
The Wolf Pack have lost three of their last five games, with all three losses played out. The Pack has yet to win a road game in front of more than 3,000 fans (8,734 at Thomas & Mack) all year. The Pack posted a season high with 19 turnovers and then only scored five points in the final six-plus minutes of the game, the time of the game where this team usually excels. So, yes, a lot happened on Saturday night that should raise a rebel red flag for the pack. This was, after all, an UNLV team that had lost six of their previous eight games. The Rebels didn't even play well, missing a total of 16 of 25 three-pointers, 12 of 29 free throws and 28 of 49 shots. They also turned the ball over 17 times themselves. The pack seemed mentally distracted for most of the game, with some players doing too much, others not enough, and no one (even Alford) doing anything to fix the problem.