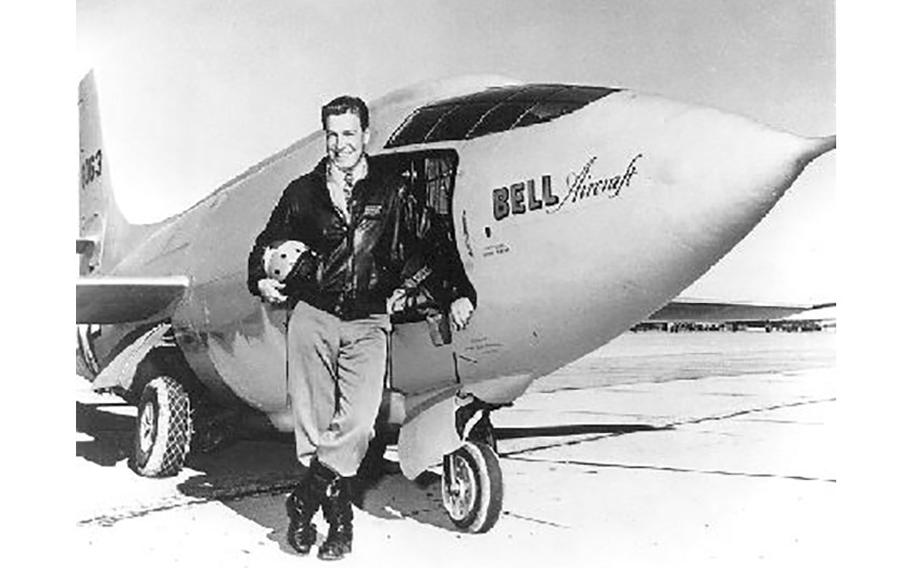 (Tribune News Service) — Chalmers H. "Slick" Goodlin, a native of Greensburg, Pa., X-1 test pilot, came close to making history as a pilot who broke the sound barrier. After a contract dispute, Goodlin, who flew military aircraft for three countries, lost his place in the cockpit and faded into the ranks of aviation history.
Though Goodlin didn't break the sound barrier, he is remembered as an accomplished pilot at Arnold Palmer Regional Airport. He is honored with a memorabilia display case in the Unity Airport terminal.
The exhibit includes photographs depicting a small part of Goodlin's aviation career. In one photograph, Goodlin appears aged 18, having just received his Royal Canadian Air Force wings. In another, he is 73 and stands in front of artwork depicting a successful flight of an aircraft he tested. The memorabilia was donated by Goodlin's wife, Aila, and includes a letter addressed to her husband in which Lawrence D. Bell thanked Goodlin for the P-63 demonstration he organized for then-Vice President Harry Truman.
"I think it all started with the airport being in his hometown," Aila Goodlin said. "It's an honor. It's wonderful. He's from their part of the world and I'm glad they remember it."
The search for Goodlin's memorabilia began in the summer of 2022 when Westmoreland County Airport Authority board member Paul Whittaker asked Goodlin's widow for artifacts.
Whittaker had formed a quick friendship with Chalmers Goodlin's brother, E. Alton "Al" Goodlin, years ago while visiting the Corner Restaurant in New Alexandria. Whittaker listened to Al Goodlin's stories about Chalmers and began to wonder why he wasn't well known.
"Slick is a local and he was so instrumental in aviation, but he was just hidden by the military," Whittaker said. "I wanted to get some of his artifacts, but nobody knew where to start. It started with contacting a family friend, then a distant family member, and finally I got in touch with Aila Goodlin. She asked that everything she sent be shown by his birthday on January 2nd."
Aila Goodlin said airport officials requested photos for the exhibit, but she has more memorabilia spanning Chalmers Goodlin's career. She has worked to preserve these artifacts, including nearly 160 postcards from around the world. During his travels, Chalmers Goodlin would send his parents postcards from the country where he was working. Aila Goodlin dated them and scanned them into a computer.
"It's hard to summarize or pin down[Chalmers Goodlin's]career," said Aila Goodlin. "He's done so much."
Chalmers Goodlin's career
Chalmers Goodlin began learning to fly at New Alexandria Airport in the late 1930s at age 15. Goodlin's sister, Myla Shestik, previously told the Tribune-Review that he left home at 16 to join the Royal Canadian Air Force, where he was nicknamed Slick. In 1942 he was recruited by the United States Navy to test military aircraft. He was discharged from active duty in 1943 and began working as a test pilot for Bell Aircraft in December of that year, testing the plane that would break the sound barrier.
As the primary test pilot of the X-1, Goodlin completed 26 test flights on the aircraft. He was about to make the first supersonic flight in an airplane when he resigned over a contract dispute. Bell Aircraft Corp., the manufacturer of the plane, denied his request for a $150,000 bonus for participating in the flight.
Edwards Air Force Base historian Raymond Puffer previously assessed that Goodlin was asking for the bonus at the wrong time.
"When this money glut came in, it was a perfect opportunity to propose to Bell that the Air Force take it on," Puffer previously told the Los Angeles Times.
Pilots at Arnold Palmer Airport agree.
"I don't even think Bell wasn't willing to pay it," said retired pilot and KLBE Air Museum volunteer Nick Zello. "
According to a 1989 story by David Noland in Air & Space Magazine, Goodlin denied ever asking for additional money. He claimed to have struck a "handshake" deal with Bell's Bob Stanley to make the first supersonic flight before turning the plane over to the United States Air Force, but they wanted a man in uniform for publicity reasons to do the flight performed.
"[Bell]basically told Slick to take it there for Yeager and tell Yeager how to do it," Whittaker said. "Yeager fell (the X-1) trying to break the record and Slick knew exactly what happened."
According to Whittaker, Goodlin had attempted to assist Yeager in the flight, just as he had done with Bob Hoover, the military pilot initially destined for supersonic flight. After the conflict, Goodlin left Bell and served as a foreign volunteer in the newly formed Israel Air Force in 1948 and fought in the 1948 Arab-Israeli War.
He later became the chief test pilot of the Israeli Air Force and transported Jewish refugees from Aden, Arabia and Germany to Israel as part of humanitarian missions. After meeting aircraft engineer and inventor Vincent Burnelli, Goodlin went to London, where he championed the designs of Burnelli aircraft. He later served as Chairman and Chief Executive Officer of Burnelli Co. Goodlin later relocated to Florida from London and founded his own aircraft leasing company called Boreas Corp.
Goodlin was 82 when he died of cancer on October 2, 2005 in West Palm Florida.
KLBE Air Museum
Goodlin's memorabilia is eventually moved to the KLBE Airport Museum. The museum was opened about 12 years ago in a hangar on the airport property by Westmoreland County Airport Authority member Donald Rossi, said museum coordinator Sam Schrecengost. Retired pilots Zello and Schrecengost host tours of the museum every Saturday from 10am to 2pm. They narrate historic moments from aviation's past, some of which took place in Latrobe.
The museum has a flight simulator and four
retired aircraft including a 1942 Stinson V-77 Reliant, an airmail plane that flew for the US Airmail Service, a government organization founded in Latrobe in 1939. It later evolved into the major airline US Airways, also known as USAir. The museum shows one of the first letters delivered by airmail.
"Don started this museum because of the airmail pickup system," Zello said. "It started here in Latrobe."
The KLBE Air Museum also houses an OX5 engine. According to Zello, the OX5 Club of America began in Latrobe in 1955 and grew to about 12,800 members by 1985. The club was formed when Charlie Carroll, pilot and founder of the Longview Flying Field in Latrobe, proposed a reunion for Pennsylvania aviators who flew behind an OX5 engine between the years 1918 and the outbreak of World War II. The club went national with the OX5 Club of Pennsylvania remaining the parent organization. The association still exists today and has about 1000 members.
There are more than 15 model airplanes displayed around the museum and a small theater is located in the back corner of the hangar where guests can sit in refurbished airplane seats to watch short informational videos. Most of the museum's wall space is dedicated to historical photos and plaques. Memorabilia is housed in display cases located throughout the museum. A small part of the museum is dedicated to the female Luftwaffe service pilots. Another section contains all the flyers for the Westmoreland Air Show since the event's inception in 1975.
"We have so much stuff in here," Zello said. "I'm not even sure where we're going to put Goodlin's things. We will find a home for it in here."
The KLBE Air Museum is open every Saturday from 10am to 2pm. Admission is free.
(c)2023 The Tribune Review (Greensburg, Pa.)
Visit www.triblive.com
Expelled from Tribune Content Agency, LLC.